Conan, Late Night Talk Shows, and Multi-platform comedy
1. Apartment 103
My college roommates and I were close. There were four of us — Ryan, Eric, Dustin, and me — and during the two years we lived in Apartment 103, we did everything together. We ate dinner together, around the table, like a family. We bought a Christmas tree together and made stockings for each other. We went to movies and watched every season of The Wire and Dexter. That apartment was the first place outside of my childhood house that felt like home.
It was the end of the semester and Ryan and Dustin had already gone home for the holidays; only Eric and I were left. He had made eggnog earlier in the day (as you do) and at 11:30pm, we sat in front of the television to watch Conan O'Brien's final night as host of The Tonight Show. I had just started getting into late night talk shows and was obsessed with the Tonight Show debacle. Here's a quick refresher: in 2004, Jay Leno announced he was retiring from The Tonight Show and handing the show over to Conan O'Brien, then the lost of Late Night. At the beginning of 2009, Conan took over and the ratings dropped. NBC, in a panic, didn't want to give Conan the time to find his footing, and after a mere nine months, announced they were moving the Tonight Show back a half hour and giving Leno a new show at his old time. Conan quit and the network gave Leno his old show back. In the ten years since, Leno retired again, and every other talk show got a new host. Conan found a new home on TBS where he's been chugging away, doing his thing, quietly becoming the longest running talk show host of the current era.
Conan was never my favorite host — Letterman always held that spot for me, and now it's Stephen Colbert of the current lineup 1 — but I always found him the most interesting of the bunch. Certainly more interesting than Leno and Fallon, and I was sad to see him lose the show2. Watching that final show with Eric — the images of Conan on The Tonight Show set, playing guitar with Max Weinberg and Will Ferrell as the credits rolled — is one of my strongest memories of late night talk shows, and certainly a highlight from Apartment 103.
2. "We're Trying to be Anarchists"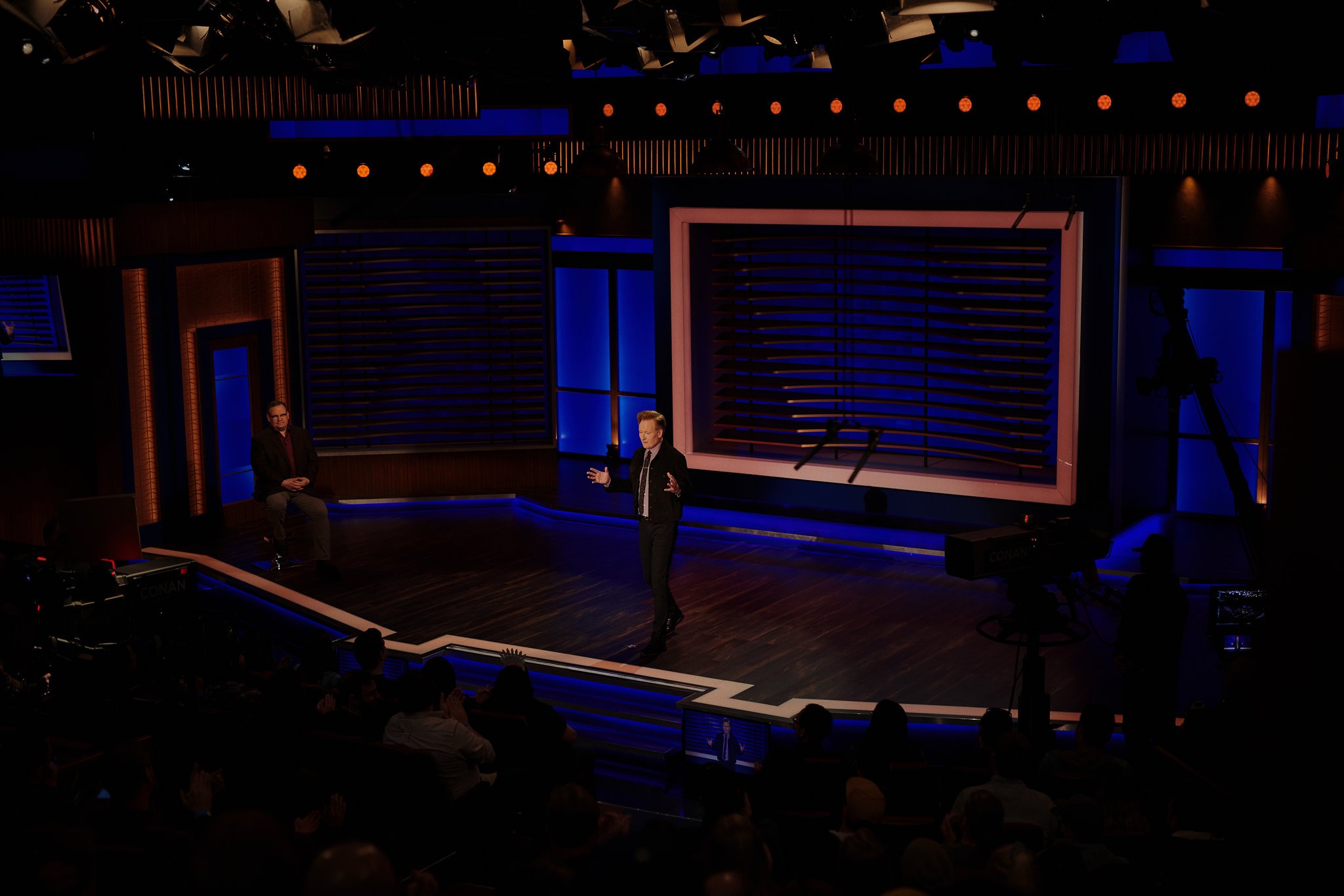 Text
Late last year, Conan announced that his now almost decade old TBS show would move to a half-hour format. The change would allow him to try new things on the show while also expanding his popular digital presence. Over the last few months, while the show was on hiatus, Conan launched a podcast, went on tour, and announced a new website that will archive every episode of Conan's shows. The shorter show would allow Conan to do more of what he does well — the travel shows and web exclusives like Clueless Gamer have proven surprisingly successful. By reducing the run-time for his TBS show, he'd have more time to devote to these extracurricular experiments while also easily playing with what the show itself can be.
On the new Conan, the desk is gone, the suits are gone, the band is gone. The set has been rebuilt, now just a small stage that can be reconfigured depending on what they are doing. Andy Richter is still there on the side of the stage. And Conan is still Conan. In the first few episodes I watched, the show felt largely the same, just shorter. As Rob Harvilla wrote for The Ringer, it was "addition by subtraction". The show obviously looked new and everything felt looser but the structure was still there: a monologue, a sketch or prerecorded bit, and an interview.
No show knows what it is in the first episode; or even the first year. The mistake NBC made in 2009 was jumping the gun, not giving Conan the time and space he needed to settle in and make the show his. It's hard to remember now, but Colbert's first year on the Late Show was rocky; with constant rumors that CBS wanted to swap his timeslot with James Cordon. And of course when Conan took over for Letterman back in 1993, he was rumored to be on a week-to-week contract. We shouldn't judge the new show by one week of episodes but it feels underwhelming after months of hearing how the new run-time would allow the show to be more experimental. Perhaps they are still easing their way into it, perhaps they still aren't sure what they can do. But for this new show to be truly exciting, it needs to get weirder. Conan needs to lean into what makes Conan Conan. There's still a lot of potential here.
Every time a new host takes over a franchise, there is a chance to mix up the standard talk show format popularized by Johnny Carson — there's the monologue, a desk bit or a skit, two guests or three guests, and a musical act or stand up set — but each reincarnation is largely more of the same. Sure, Colbert made the monologue his own, where they often clock in well over ten minutes. Seth Meyers performs his monologue behind the desk. James Corden and Jimmy Fallon focus more on games and viral-style videos but it's still just a white guy in a suit sitting behind a desk telling jokes and talking to people. It's a design problem, really: how do you work within the constraints of the format while making something your own? "We're trying to be anarchists, but I'm trying to be a good boy and do a good job for the network," Conan told Dave Itzoff of The New York Times. What he's engaged in now, he said, "is this gradual progression toward me making the job fit me more — what do I like?"
That's the tension with late night talk shows — especially with established francises like Tonight or Late Night: how do you honor the form that's been honed down over the last three decades while creating something new. Conan, perhaps more than any other late night host, has pushed himself up against that dominant form to question what else it could be. Sometimes, like Colbert or Seth Meyers, you find ways to work within in the system. But for Conan, the best way forward, I think, is to throw away that tradition and making something wholly his own. With TBS, he found a partner that gives him the space (and time) to try new things and make the show more like him. But the other, more important, question is: how central is the show to Conan's new output.
3. Building Your Own Printing Press
Ten years ago, around the same time I was watching the final episodes of Conan's Tonight Show with Eric, I started to get interesting in media distribution. The iPad would come out a few months later and this was when the first paywalls were being erected around newspaper websites. As someone who was always publishing little things online, I was excited by the potential and increasingly low-bar to entry. I wrote an essay for the now-defunct blog I kept through college on these changes and wondered out loud whether Conan even needed a new network. The essay — titled "Building Your Own Printing Press" — is no longer online but used the A.J. Liebling's popular aphorism, "Freedom of the press is only free for those to own a printing press" as my starting point. The internet, I argued, gave everyone their own printing press. Conan was my prime example. Here's the key paragraph:
Under his exit contract with NBC, Conan O'Brien is unable to join another network until after September 1. So what will he do until then? Mr. O'Brien finds himself with a lot of free time and a lot of cash which make for the terrific combination to fully embrace independent media. It would be extremely easy for Conan to launch a new show without any network, contract, and deals and it could be all online, the way his fans watch him anyway. He would get to do his show, the way he wants to do it and not have to worry about networks giving him a hard time. The way we are consuming our media is changing and it's about time the distribution caught up.
That was in 2009 — I was an overly optimistic (and arrogant) college student — and I realize now how much harder that would have been a decade ago. But now, in 2019, it is possible. YouTube stars are a thing. Instagram influencers is a term we now say without flinching. And it's exactly what Conan is now doing. Conan and TBS have entered a deeper partnership and are careful to continually point out the "show" isn't the only part of that partnership. There's already a podcast and a recently finished tour and I imagine we can expect more of that. Under the new contract, Conan can record as much as he wants each day and only owes TBS a half-hour. The rest can go online, or in any other place it fits. The format I wished for ten years ago probably wasn't financially possible then but it certainly is now.
This raises the question: how important is the TBS show to this new multi-platform comedy empire (ugh)? If anything, the show has been reduced to just another spoke in the wheel. By devoting less energy specifically to the show, each component can shift more freely. It's here that Conan is truly subverting the late night form.
This is what I couldn't quite reconcile ten years ago: Conan is on TV but his fans aren't watching TV. The late night talk show is an archaic format; a relic from another era. Appointment viewing isn't how people watch television anymore. (Think about how many times Netflix has tried to get into this area. So far they've been unable to crack it because it goes against Netflix's whole model.) These shows are increasingly being watching in bits and pieces on YouTube the next morning. I've never seen an entire episode of Late Night with Seth Meyers but I've watched every single one of his A Closer Look segments.
Instead of prioritizing the show, Conan gives everything — the show, YouTube, his podcast — equal weight. It's appealing to both sides of the generational divide, both packaged for TV and distributed across the web. You can watch it as a traditional talk show or online in short clips. While late night viewership decrease on television, they are increasing online. Much like newspapers and magazines struggled to get their content online in the early days of the web, so to are television networks still figuring out how to go digital. For many of these other shows, segments are clipped for YouTube or there's a separate team making original content for online venues (that often feels like it's separate from the show.) The other networks and hosts can take a cue from Conan and TBS, fully integrating the two, giving equal weight to both sides. As Conan said in another interview, perhaps in five years people won't even notice that the "show" — in the traditional sense that we think about it now — is completely gone. Under this new model, it's not impossible that ever-so-slowly, everything moves online.
Content-wise, Conan will find his footing within the new show. These first few weeks are testing the waters, being a beginner all over again. But it's important to not overlook how much he's already trying something new. This openness to different media platforms is, I think, the future of the genre. At least, it's the future I wanted when I was sitting there in Apartment 103. I haven't sat down at 11:30 to watch The Tonight Show since.
---
I'd also put Dick Cavett on my list right along Letterman, but his show never felt connected to the big four: Tonight, Late Night, Late Show, and Late Late Show. It always seemed like he always was doing his own thing. ↩

I've long held a theory about the Tonight Show. Letterman famously wanted it in the nineties after Carson retired — and Carson supposedly saw Letterman as his rightful heir — but the show went to frequent guest host Jay Leno. When Leno retired again in 2013, Jimmy Fallon took it over and is the current host. The Tonight Show is a brand name — that's the popular show. It has to be generic, inoffensive, appeal to the most people. Letterman wouldn't have been good on Tonight — he's too smart and too weird. Same with Conan. Leno and Fallon and can do that. They are less interesting, better at appealing to the widest audience possible. ↩